I've been thinking a lot about SEO, long tail optimization, and various other methods for driving traffic lately. I have also been watching the analytics religiously and trying to guess at what matters. A certain blog post (the one about using jquery's asynchronous request stuff, or AJAX, to update a bootstrap progress bar) seems to be well placed out on that long tail and drives a notable portion of that traffic.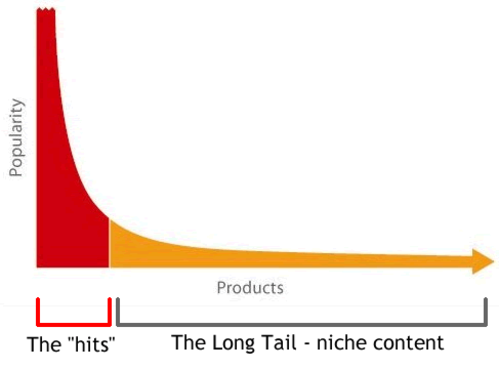 This certain post only gets around 100 impressions a month from google, but has a CTR of about 20%. I have other pages that generate several times as many impressions, but never rack up the click count to even register. There definitely seems to be something about using long tail optimization to target the niche, as the other pages that get traffic mostly sit at 0 hits. Here is the google analytics graph of the jquery/bootstrap progress bar page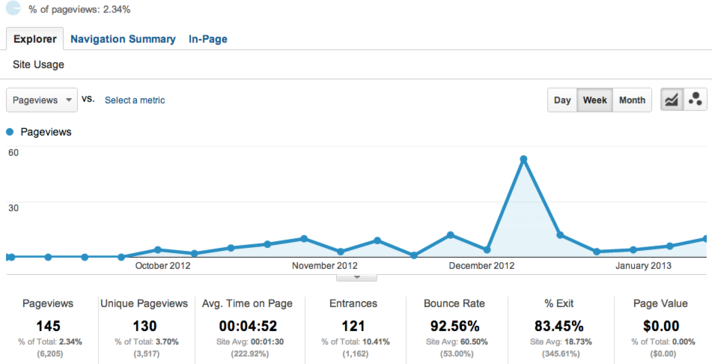 While the traffic is hardly impressive, it is enough to start providing numbers to optimize. This is exciting as I have a brain chock full of lean startup concepts and am eager to start applying them in a practical fashion. The trick will be look for that magic balance where there is enough traffic to be worth it, but small enough interest that it's not a saturated market. Neat stuff! 🙂
In the future, I think would like to start doing market research before blogging. Obviously, I like writing about some fairly esoteric topics, like how to generate Mac application bundles using SBCL or Setting up the UncommonWeb application server, but those pages get very little attention. The entry on the jQuery/bootstrap kinda felt like pandering when I wrote it, but drives more traffic than all the others combined. I think I've been focusing too far down the long tail!